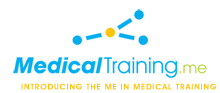 2/1/2019
After being in business for five years, one of the crucial things I've come to realize is that ANY business is not built alone.
There are behind-the-scenes people who I thank virtually every day for the work that we do together.
However, there are other public partners who have enabled the success of MedicalTraining.Me from the beginning to today and hopefully into the future.
Please take a moment to click through to each of the business partners we've listed below to learn more about them. I hope we can add your logo to this listing before we reach ten years!
Thanks again to our partners and to you!
Sincerely,